SENTRY MONORAIL RADAR Ground Support Equipment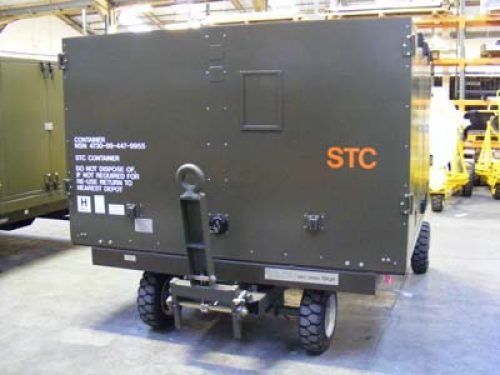 Client Requirements….
The UK Ministry of Defence tendered the design and manufacture of a number of Special to Type Containers (STC) to store, transport and aid the deployment of Sentry Radar equipment.
The STC's were to be strong, robust, lightweight, mobile and suitable for worldwide deployment by UK forces into harsh environments. They therefore required to be designed to meet all Military and Civil transport regulations. In addition they had to meet the test specification of Military level "J". The contents were made up of several kits and each had to be immediately accessible with every item individually stored and located. The containers had to de designed with ease of maintenance in mind requiring no specialist tools.
---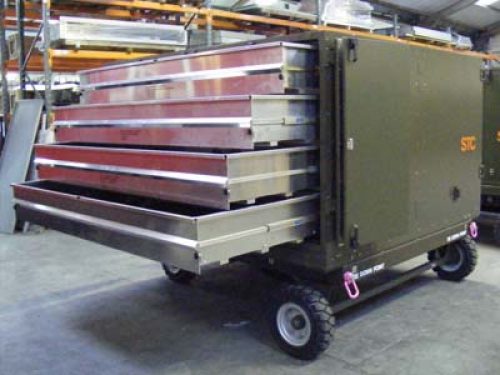 B&D Solution
Barum & Dewar have extensive experience in both Military packaging and the design and manufacture of aluminium fabricated containers so this was a great project to have been selected to undertake. With access to any of the contents required the solution was for a multi-drawer system with access from two sides of an aluminium fabricated container located onto a suitable trolley based chassis. Heavy duty slide rails supported each of the drawers which were fitted with custom foam and securing straps to hold all contents securely in place.
In addition all trays were labelled and contents clearly identified with additional locations created for toolkits and documentation.
---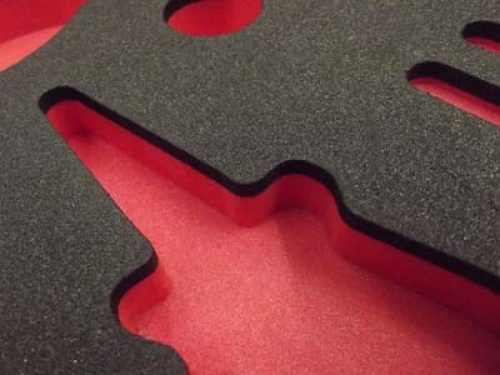 Multi-Drawer Solution
With independent access to all of the contents required at any given time the use of drawers enabled all the contents to be laid out clearly and logically. The drawers were fabricated in aluminium and fitted into the container by way of heavy duty slide rails each designed to support the contents and allow for drawers from both sides of the container to be opened at the same time.
The use of CNC routed foam in each of the drawers ensured all contents were securely located and easily identified.
---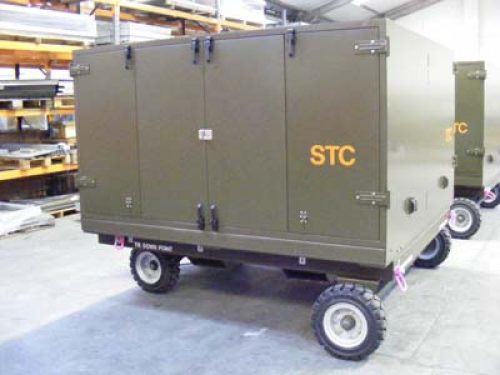 Container
The design of the container, along with the drawer system and internal foam was undertaken by B&D's in-house technical design team. The container had to be strong enough to support the drawers and to allow each of them to operate independently from either side whilst ensuring the container remained stable.
Finally the container body was secured to a robust trolley chassis which allowed the container to be easily towed.
---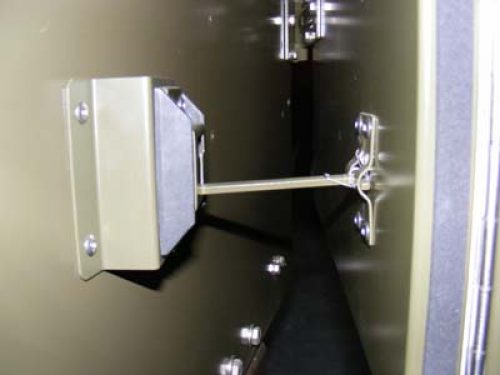 Details
Operating on open airfields and exposed to elements it was vital that the multi-hinged doors would not be affected by sudden gusts of wind or the movement of aircraft operating nearby. Each of the hinged doors were designed to be secured when open.
Finally, the containers were primed, fully painted externally and labelled suitable for worldwide deployment.
---