Barum & Dewar secures additional project with The UK Ministry of Defence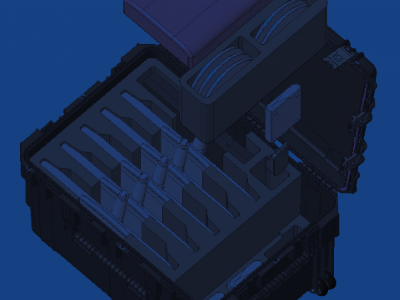 In line with the terms of the 5 year NSoIT(D) contract signed between the UK Ministry of Defence and Barum & Dewar in early 2020, Barum & Dewar is pleased to announce it has received approval for the manufacture of a further 600 ruggedised transit cases. The cases will provide protection to a range of IT hardware and associated communication equipment during field deployment, enabling rapid delivery to the frontline.
Following the delivery of over 250 19" racks and 100's of transit cases during the past 12 months, this requirement builds upon the work already undertaken by Barum & Dewar since the initial contract award. By understanding the MOD's intricacies and specific needs, we have provided them with high-quality bespoke designed packaging solutions, which have ensured the highest standard of protection and presentation for their equipment. Regular engagement throughout the design process between B&D and the MoD has created trust, encouraged innovation and collaboration, ensuring a clear understanding of user needs.
This latest award will utilise military accredited cases from our partner SKB, which will be internally fitted with custom designed foam, manufactured and installed by the reputable team at our dedicated UK foam facility. This experience and access to leading products, alongside in-house design and manufacture, is a powerful combination.
Having worked in close partnership for over a year with MoD project teams, Barum & Dewar has built a clear understanding of both the user needs as well as the most suitable method of containerisation- allowing us to deliver market-leading protective packaging solutions, bespoke to their needs, in a fast timeline.